Software Security, Protection, and Reverse Engineering Workshop
The Condado Plaza Hilton | San Juan, Puerto Rico, USA
December 4-5, 2017
Collocated with ACSAC 2017

We want to thank the following sponsors for their support of SSPREW-7.
Formal Avenue for Chasing malwarE
Website: www.face-project.it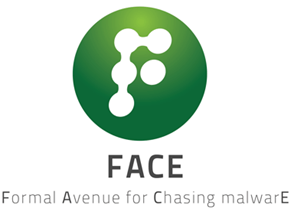 Today's security threats are characterized by effective dissemination mechanisms ( e.g., droppers, drive-by download), malicious mobile apps, and targeted attacks. The large amount of malware samples are often mutations and porting of known families (also to mobile platforms). Malicious mobile apps are difficult to analyze because they do not show their full malicious behavior if not properly stimulated. Modern malware attempts to evade both dynamic and static approaches, with anti-debugging, obfuscation and metamorphism techniques. In these cases, a semantic approach to hybrid (dynamic and static) analysis techniques would lead to a more precise understanding of the malware behavior and, therefore, to the development of more effective detection mechanisms. Indeed, formal approaches to program analysis are a promising research direction, although their application to malware is still quite poor. We believe that semantics-based formal approaches for modeling and reasoning on the evolving behavior of metamorphic malware will provide a significant contribution to both research community and industry. The main challenge is the isolation of the common malicious behavior shared across the metamorphic variants. FACE will leverage formal approaches for modeling 1) the common malicious behaviors and 2) the execution environment (e.g., target system, sandbox), so to account for environment-sensitive malware.
Irdeto
Website: www.irdeto.com

Irdeto is a world leader in content security, management and delivery for pay media companies. Through its innovative conditional access, dynamic monetization and content security technologies, the company allows new forms of distribution for broadcast, broadband and mobile entertainment. For more than 40 years Irdeto has been helping to evolve today's connected day — from enabling the world's first digital satellite pay TV network to the world's first mobile broadcast TV service to nearly every device and medium that a business or consumer engages on a regular basis. Irdeto has been there from the beginning and proudly looks forward to continuing to foster the connected day, driven by the digital industry.